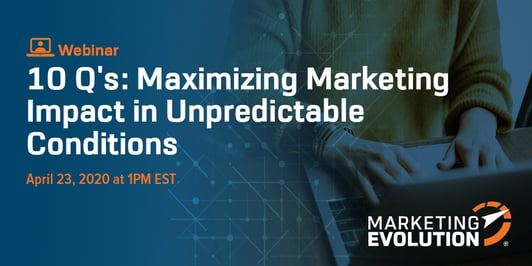 A rapidly changing consumer marketplace creates a widespread uncertainty.
At Marketing Evolution, we understand how measurement and analysis can produce insights that help us better understand the challenges and opportunities within this shifting environment. That's why we reached out to our customer community to find and resolve 10 pressing questions and concerns facing their businesses at this time.
In this webinar, Marketing Evolution's product and analytical experts will provide the best possible answers to your questions using all of the information available to us today - and together with you, we will start the meaningful conversations around how cutting edge marketing analytics can provide guidance on making decisions in a rapidly changing media environment.
Join us on April 23rd at 1pm EST.