Media Planning: A Complete Guide for Marketers
Published
August 31, 2022
Today's marketers are often tasked with balancing campaign efforts across a range of different media platforms and assets. This can make it challenging to effectively track each tactic's success and overall impact on the business's bottom line. With a thorough media planning strategy in place, teams can more accurately and holistically monitor campaign success and make informed decisions about how to optimize performance in the future.
Let's take a look at some of the key considerations to keep in mind when building a media plan:
What is Media Planning?
Media planning is the process by which marketers determine how, when, and where an audience is given a selected advertising message. Media planners analyze the audiences, channels, and advertisements to determine the most efficient way to communicate a message to the intended audience.
In today's competitive and busy marketing landscape, media planning is essential. Marketers need to serve consumers with the right message, at the right time, on the right channel in order to see engagements. Media planning is where marketers determine what these "rights" are.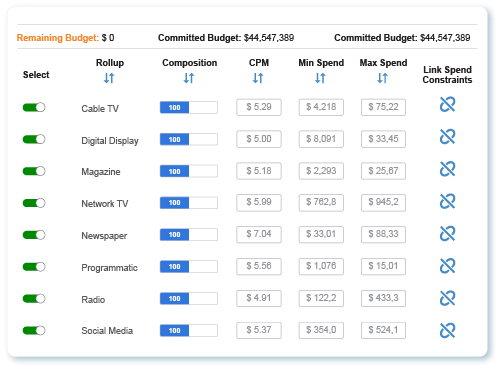 Media planning is most often done by media planners at advertising agencies. Media planners must work with media buyers and the client organization to develop a strategy to maximize ROI on media spend. Media planners are required to have a firm understanding of the organization's brand and target audience, various media platforms and developing media trends.
Media planning consists of formulating a strategy, evaluating its effectiveness, and adjusting, while buying is the execution of the strategy.
As noted, the media planner will evaluate brand and audience to determine the correct combination of messaging and media mix on which to advertise in order to reach consumers in a positive, impactful way.

What is a Media Plan?
A media plan outlines which audience will be targeted, across which channels, at what time, and with which message.
An effective media plan will result in a set of advertising opportunities that target a specific audience and fit in with the organization's marketing budget. When establishing a media plan, factor in the following considerations:
Who does the ad need to reach?
What is the marketing budget?
What are the conversion goals?
How frequency should the message be shown?
What is the reach (how many people will see it)?
How do we define success?
Types of Media Planning
To create an effective media strategy for your brand, you must decide what types of media (traditional or digital) will be cost-effective and bring in sales.
There are three main types of media that are considered when building a media plan:
Paid Media
Paid media refers to advertising that is the result of paid placement from the brand. This includes pay-per-click advertising, display ads, and branded content. This is the most common way for brands to get exposure and boost sales.
Owned Media
Owned media is content that is owned by your brand, i.e. blog posts and social media accounts. By increasing the use of the company's owned media, you can increase your customer reach and increase brand awareness.
Earned Media
Earned media refers to the publicity the brand gets from outlets other than their own company. For example, customer reviews, media coverage, and word-of-mouth are all forms of earned media. This form of media is valuable because it often comes directly from consumers. This feedback can also help improve the quality of the product or service you are offering.
By weighing the cost and benefits of each platform, your company can decide what resources and forms of media will fit best into your media plan.
What are the Benefits of Media Planning?
Today's modern marketing often requires marketers to leverage multiple forms of media, and a data-driven media plan provides marketers with centralized information across all platforms. This helps to optimize campaigns and messaging, as well as streamline the campaign review process.
Key benefits of media planning include:
Establish Processes
Media buying can be a complicated and time-consuming process. By getting your plans and processes in place, you can improve efficiency and save resources across the board.
Budget Tracking
Marketers have to know their budgets and a good media plan accounts for all costs and estimated ROI.
Audience Segmentation & Analysis
So much of media planning is understanding your audience and what message will resonate with them.
Optimization & Testing
A good media plan uses the data at hand to determine what has worked, what isn't working, and what might work based on existing data.
Improved ROI
It's called a plan for a reason. Media planning allows you to create an optimized campaign that delivers ROI.
What are the Objectives of Media Planning?
Media planners need to identify the combination of ads to achieve a specific result. Objectives should generally align with business goals, such as long-term growth and improving ROI.
Media planning will often utilize a wide range of tactics to increase brand awareness, generate leads, or drive conversions to help their organizations accomplish these goals.
Media Planning vs. Media Buying
Many people confuse media planning and media buying but they aren't the same. Media planning sets you up to buy while media buying is the process of purchasing ad space across various channels and platforms in coordination with the agreed-upon media plans and monitoring campaigns as they run.
This means evaluating platform formats and rates to ensure they coincide with the plan, negotiating costs, keeping abreast of media trends, and building relationships with counterparts at various channels and platforms.
Media buying often leverages one of the following popular strategies:
Manual bidding
Programmatic buys
Real-time bidding
Challenges of Media Planning
Media planning can be challenging because there are so many contributing factors that must be accounted for, and because many believe that media planning strategies and processes have not modernized along with marketing.
Challenges include but are not limited to:
Consumer-Level Targeting
The media plan must understand consumers at a granular level to determine what types of messages resonate with them, requiring in-depth marketing analytics and an omnichannel measurement solution
Platform Preference
Brands must also know the various channels and platforms that target audience members engage with and when. This will allow you to effectively choose media on which to run campaigns. All of this must be done with budget and media spend in mind.
Heavy Budget Focus
Media planning continues to revolve around budget rather than customer engagement. Unfortunately, there is limited flexibility when it comes to a budget, preventing marketers from course correcting as campaigns run and new insights are discovered. Modern media planning requires the flexibility to allocate budget to different channels if they prove to be more successful.
Integrating Measurements
Because there are so many online and offline channels, it has become infinitely more difficult for marketers to measure the success of these campaigns alongside each other to determine which are most effective and which should be updated.
Today, media planning has to adapt to focus on the consumer experience using flexible budgets and real-time, unified measurements that allow for media plan optimizations in-campaign.
How to Write a Media Plan (4 Steps to Follow)
Creating a media plan is a detailed process that requires planners to consider the needs of target consumers as well as the goals of the business.
Here are the essential steps and considerations marketers must make when creating a media plan.
Step 1. Determine Media Goals and Objectives
It might be easy to assume that the goal is to drive conversions or engagement; however, that would oversimplify this step. Goals may vary by department, or there might be multiple objectives for one campaign. The sales team may be targeting increased revenue while the marketing objectives might be to increase brand awareness. Knowing the main goal of the campaign will determine how it runs, as well as messaging.
Once clear goals are established, media planners must conduct research into market trends and the competitive landscape. This research will offer visibility into where similar brands and goals have achieved success in the past, informing planning decisions. For example, if a brand has long relied on email campaigns but research reveals that competitors have had greater success with native ads, it may be time to shift the plan.
Of course, when determining goals and setting objectives, media plans must factor in budgets. Avoid assigning strict dollar amounts to specific channels. A flexible approach to your marketing budget will allow for optimizations to be made as campaigns run.
Step 2. Determine Target Audience
Marketing today is driven by creating positive customer experiences. When developing messaging and selecting where to display those messages across the media mix, marketers need to focus on specific audience needs.
• First, examine which segment of the overall audience you are trying to engage.
• Look at attribution measurements and engagement analytics to understand the types of ads users engage with, which creative is most effective, and importantly, which channels these consumers use.
• While marketers often utilize demographic information such as age, location, general interests, etc., be sure to incorporate person-level data gathered through a unified measurement approach to get the most tailored results.
Step 3. Consider Frequency & Reach
Another key component of a media plan is reach and frequency.
• Reach refers to how many people the campaign will be in front of over a specific amount of time.
• Frequency refers to how many times the consumer will be exposed to the ad over the course of the campaign.
There are a few popular approaches that marketers take when selecting frequency.
Continuity: Ads will run on a consistent schedule over the course of the campaign: for example, two ads per week. The continuity strategy is often used for goods that are not seasonal and require regular reinforcement to stay top of mind.
Flighting: "Flights" refer to internment or alternating periods of advertisements followed by pauses in advertising on the channel altogether. Flighting works well for seasonal products or for those with less ad budget. For example, when there is a pause in a flighted television campaign, marketers may choose to run print ads instead.
Pulsing: A combination of flighting and continuity. Pulsed campaigns will incorporate low-intensity consistent advertising that is augmented by flights of higher-intensity ads during times when additional messaging can have a high impact.
Step 4: Analyze and Optimize Campaign Performance
One of the most important steps to building a media planning strategy is to continuously monitor, track, and analyze performance. Marketing campaigns are not "set-it-and-forget-it," instead, they require ongoing management to drive maximum ROI. This hands-on approach allows teams to identify opportunities to optimize performance in real-time based on what is or isn't working for each campaign.
Selecting the Right Media Channels
There are a variety of online and offline channels for marketers to choose from. We must use the information gathered in the research and goal-setting phases to determine which channels will drive success.
Here are some of the most popular forms of media that marketers choose when media planning, along with their attributes.
Offline Media
Magazines
Magazines have a long shelf life and often stay in a consumer's possession for two to four weeks after being read. Information in this medium tends to be retained longer, since people read faster than they can listen. Research has shown there is a higher amount of trust in magazine ads than in other forms of media (60 percent of readers trusted the advertisements they saw in magazines).
Consumers are also less resistant to these kinds of advertisements, as these often tie in with their interests. Publications tend to be very targeted (e.g., running magazines or cooking magazines). They reach a secondary audience in addition to the target audience, since they are passed along to family and friends.
Newspapers
Advertising with local newspapers is a great way to ensure a brand's message stays local. When selecting this medium, marketers can choose which section of the newspaper ads are placed for further targeting. If you want to target those interested in fashion, you can select the Style section of the newspaper.
Additionally, newspaper readers are more likely to have higher education and 7 out of 10 of households earning above $100,000 read the newspaper. This can be important when selecting ad space based on demographics.
Radio
Radio ads have a local appeal, allowing you to target specific areas or regions of the country. It is also an easy medium to build frequency with your target audience, and is considered a lower-cost medium. According to research, exposure to a radio ad and time to purchase is the shortest of any medium. Additionally, when paired with other forms of media, the overall campaigns were more effective.
TV & Cable
TV and cable are highly visual and can demonstrate products in everyday life. For example, if you sell a cleaning product, consumers can see the benefits of the product and how they can be applied in their home. This medium is of course very prevalent, as the average American watches approximately five hours of television a day.
Out of Home
Media such as billboards are large and get attention. In a busy area, your message can reach 10,000 people in a month. Out of home isn't limited by billboards, only your creativity is. Out-of-home is also an extremely mobile option. (e.g., using displays to advertise luggage at an airport).
Online Media
Digital Publications
Many digital publications have opportunities for you to email their database through a personalized email or newsletter. They can track open rates and understand conversion rates to your site or asset. These are often specialized publications, making it easy to reach your target audience, and are great tools for lead generation campaigns.
PPC
Advertisers can capitalize on search intent. Advertisers can retarget people who have visited their site. PPC is an extremely cost-effective medium.
Social Media
Like PPC, social media is an extremely cost-effective medium. It is also extremely targeted, allowing marketers to target by interests, age, marriage status, etc. Social platforms are constructed on a basis of community, which allows your brand to connect more personally with consumers. It also gives your brand the chance for content to go viral.
Programmatic Advertising
Programmatic advertising is extremely targeted, using an algorithm to find and target specific audiences across digital platforms. When looking into this, there are two methods to consider:
Programmatic Bidding - uses demand side platforms to buy ads on the digital market based on target audience.
Real-Time Bidding - allows advertisers to bid on impressions to their target audience. If their bid wins, the ad is displayed right away.
Tips for Building a Media Planning Strategy
As marketers begin to strategize new media plans, keep these ideas in mind:
Reach
Select outlets and times that will best reach your target audience. For example, buying ad space during a live televised event (such as a sports game) ensures that viewers will be watching the program live and not fast forwarding through the commercials.
Establish Clear Goals
Is this a branding campaign or are you looking to generate leads? How many people are you looking to reach?
Engagement
How do you encourage people to talk about your brand? Make sure your ad has a clear direction on what would resonate with this target audience based on demographics and viewership. Additionally, make sure you have a way to test the effectiveness of your ad.
Attribution Models
Make sure that your team is using a marketing attribution model that can effectively track offline and online media. Using the right attribution model can ensure your team is making choices that make sense when planning media.
Media Planning and Marketing
Since the pandemic began, more customers have started shopping in an online space. 77 percent of online "window" shoppers make impulse purchases. Since this number is only expected to grow, it is important to have an effective media strategy. This means separating your budget appropriately between print, digital, video, and broadcast ads.
To ensure that your brand is saving money and delivering content to the correct audience, it would be wise to know the costs and importance of using each form of advertising. From here, your company can delegate the correct amount of resources to each campaign to increase website traffic and brand awareness.
Getting Started with Media Planning
With a comprehensive media planning strategy, organizations can make more data-driven decisions about how to improve marketing ROI and drive conversions. Today, many teams are leveraging tools that allow them to make smarter, faster, and more accurate media planning choices.
With Marketing Evolution's Scenario Planner, organizations can strategically build out their annual media strategy and plan, and even run "what if" scenarios that allow them to modify key campaign factors without impacting active initiatives. This enables teams to truly optimize their media mix while simultaneously cutting down on ad waste.