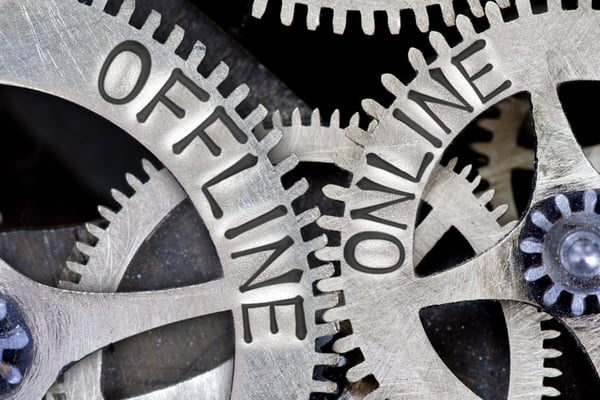 Across industries, marketing professionals are leveraging a wider marketing mix that includes digital, print, and broadcast advertising. The benefit of such an extended marketing reach is that brands have more opportunity to engage with consumers across the sales cycle and further impact marketing ROI. However, with such an extensive mix of online and offline media being used, marketers now have to understand the relationship between historically disparate online and offline media channels.
In order to understand and, more importantly, track online and offline media, marketers need to understand what measurement strategies and tools can provide the insights needed for optimization and which can't. Moreover, they need to know the challenges of traditional measurements and the capabilities needed to measure online and offline channels together.
The Importance of Offline and Online Media Measurement Today
Modern consumers now receive messaging through a much larger, diverse marketing mix than those of years passed. In fact, they receive so much messaging from marketers on a daily basis that they've grown accustomed to ignoring the messaging that doesn't speak to their unique needs or interests. For marketers, this means that in order to optimize the widened marketing mix they're deploying, they need to understand several key elements:
Where and when consumers engage with online and offline media

How the customer journey flows across online and offline media

How each online and offline channel impacts the effectiveness of additional channels across the marketing mix

What creative messaging is having the most positive contribution
Armed with these insights, marketers can understand how their campaigns fit into an omnichannel marketing strategy that provides relevant online and offline advertising to the right audience, at the right time, on the right channels.
The Challenges of Combining Online and Offline Measurements
Consumers expect relevant marketing that caters to their unique engagements while fluidly transitioning across online and offline channels. Specifically, they want an omnichannel marketing experience. However, when it comes to tracking metrics for offline and online campaigns to get the insights required of an omnichannel strategy, marketers have been falling short.
This is because marketers traditionally spend their efforts measuring individual channels and then optimizing those channels based on these isolated insights. For example, digital marketers may optimize their display ads based on click through rates and impressions. While this strategy is ideal for quick fixes, it fails to help marketers recognize the, "big picture" of their omnichannel marketing.
In order to effectively combine online and offline marketing measurements to bolster omnichannel efforts, marketers need to be able to gather granular data that illuminates specific consumer behavior at the person-level. In other words, marketers need to collect data on individual consumer behavior across their marketing mix—something that is rarely focused on today.
Gaining Visibility into Offline and Online Efforts to Stay Competitive
Marketers who don't cohesively understand how their target audiences are engaging across their marketing mix—online and offline—will lack the ability to meet modern consumer demands for customization. If a business can't keep up with these evolving consumer needs, they can rest assured that a competitor will take their place. With this in mind, how can marketers gain actionable visibility into their offline and online efforts to provide an omnichannel experience? There are three important components:
Gathering the right data

Leveraging a marketing analytics platform with modern capabilities

Developing the right models to accurately track offline and online media
It starts by gathering the right data. Specifically, marketers need to collect data from the sources that can accurately shed light on offline media engagement that can later be compared with digital media measurements for a holistic view of marketing impact across the marketing mix. This offline media includes print subscriber lists, radio broadcast zip code areas, T.V. box top data and smart T.V. data, and print media subscription lists. Next, marketers need to collect accurate short-term and long-term sales data to which overall marketing efforts and consumer behavior can be compared.
Once this data is collected, marketers need a marketing analytics software capable of developing models that highlight the customer journey marketers have created, while measuring the effectiveness of the channels along that journey. Diving deeper, marketers need modeling framework that can forecast data instead of looking at past campaigns to base marketing decisions on, while accurately valuing the various audience segments engaging with the brand.
With the right data collection and analytics software in place, marketers can develop models that match offline media exposure with digital engagement and in-store or online sales conversion. This allows marketers to track the impact of offline and online marketing efforts while highlighting the various ways they influence each other as they move consumers down the sales funnel. Marketers can then use these insights to optimize online and offline channels to work better together toward campaign effectiveness.
Final Thoughts
To remain competitive, it is crucial that marketers have the ability to track and measure their online and offline efforts to help deliver the omnichannel marketing experience consumers expect. With this in mind, marketers need access to the right data and analytics software that can effectively showcase which channels across the marketing mix have the most impact, helping them place the right messages in front of the right consumers, on the right channel at the right time.