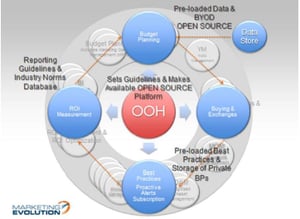 In this series of articles, we explain our work in expanding programmatic connections across mobile, video, TV, print, and Out-of-Home, and how you can use these new technologies to optimize your campaign in real-time. Our first entry covers the Out-of-Home industry's proud breakthrough in moving towards programmatic buying. For questions and interests in learning more, reply to our newsletter.
"Our goal is to make it easy for marketers to turn in-campaign insights around creative rotation and media mix into action" noted Rex Briggs, Marketing Evolution's Founder and CEO, "to achieve this goal, we work with advertising agencies to learn and streamline processes and spreadsheet formats. We further embrace our goal to turning campaign insights to action step by working directly with media owners, media tech platforms and trade associations."
In January, the Outdoor Adverting Association of America (OAAA) hired Marketing Evolution to evaluate how to plan, buy, and measure Out-of-Home. The result of our collaboration was a breakthrough for the industry; Marketing Evolution wrote a white paper detailing how the OOH industry can integrate digital behavioral audience data, geo-location and first party data into planning software; you can download the whitepaper.
Marketing Evolution also wrote the industry's standard programmatic protocol, which was adapted from digital protocols. We are excited to pilot the programmatic API with Marketing Evolution's clients. For example, our clients would define the target audience in Marketing Evolution's Impact Based Planning software, which would include Out-of-Home media owners' inventory at the board level. By sending buy inquiries, receiving pricing, and executing a buy in a highly automated way, the new technology would save the agency time, the marketer money, and delivers a significantly smarter media solution.
Stayed tune for additional announcements to expand the ecosystem of media owners across online and offline media worlds who are collaborating with Marketing Evolution in media planning and in-flight optimization system known as the ROI BrainTM.