How to Track Offline Marketing Campaigns
Published
October 1, 2018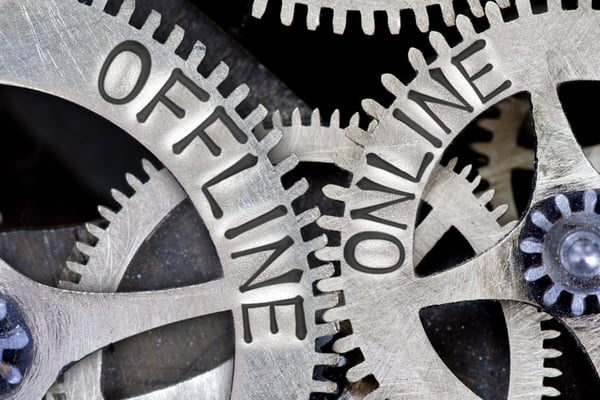 Across industries, marketing professionals are leveraging a wider marketing mix that includes digital, print, broadcast advertising, and more. The benefit of such an extended marketing reach is that brands have more opportunity to engage with consumers across the sales cycle and further impact marketing ROI. However, with such an extensive mix of online and offline media being used, marketers now have to understand the relationship between historically disparate online and offline media channels.
To track marketing success of online and offline media, it's important to understand what measurement strategies and tools can provide the insights needed for optimization and which can't.
The Importance of Customer Journey Mapping
Consumers expect relevant marketing that caters to their unique engagements while fluidly transitioning across online and offline channels. Specifically, they want an omnichannel marketing experience. To achieve this, marketing teams need an in-depth understanding of each consumers' specific journey on the path to purchase. Think of it this way - it is unlikely that you would see one ad for a product and purchase it on the spot. Rather, you might see an ad for it on social media, read a profile about the company in a magazine, and sign up for their newsletter for more information before ultimately making a purchase. Each one of these interactions was an important step in going from prospect to customer. In fact, it takes an average of eight interactions with a consumer to earn an initial conversion (be it sale, meeting, download, etc.).
Essential to optimizing media spend and creating positive customer interactions is understanding which touchpoints consumers engage with before converting. From there, marketing teams can invest more in those channels that drive results and that consumers prefer to engage with. This is where online and offline marketing tracking and correlation comes in.
Challenges Marketers Face Tracking Digital and Offline Marketing Tactics
However, when it comes to tracking metrics for offline and online campaigns to get the insights required of an omnichannel strategy, marketers have been falling short.
This is because marketers traditionally spend their efforts measuring individual channels and then optimizing those channels based on these isolated insights. For example, digital marketers may optimize their display ads based on click through rates and impressions. While this strategy is ideal for quick fixes, it fails to help marketers recognize the, "big picture" of their omnichannel marketing.
Furthermore, it is typically easier to track engagements for digital marketing platforms than to track offline marketing campaigns, As a result, these channels can be left out when considering the overall interactions that contributed to a conversion, or may not be considered in personalization efforts.
In order to effectively combine online and offline marketing measurements to bolster omnichannel efforts, marketers need to be able to gather granular data that illuminates consumer behavior at the person-level. In other words, marketers need to collect data on individual consumer behavior across their marketing mix.
Essential Data for Tracking Offline Marketing Success
How can marketers gain actionable visibility into their offline and online efforts to provide an omnichannel experience? There are three important components:
Gathering the right data

Leveraging a marketing analytics platform Developing the right models to accurately correlate and track offline and online media
It starts by gathering the right data. As noted, it should be simple for online campaigns. Marketing teams can track clicks, traffic, and engagement for digital ads. Tracking links are a helpful way to determine which asset brought a prospect to a solutions page or led to a form submission.
Tracking offline engagements is trickier. Marketers need to collect data from the sources that can accurately shed light on offline media engagement that can later be compared with digital media measurements for a holistic view of marketing impact across the marketing mix.
To effectively track offline marketing engagements, teams will need a mix of first and second-party data sources. Chief among these are:
Print media subscription lists

Radio broadcast zip code areas

T.V. box top data and

smart T.V. data
This information can be obtained through partnerships with these media companies, and can help marketing teams determine which specific consumers were exposed to certain ads.
In addition to this second-party data, marketing teams must look at past sales data to understand when it is common for there to be spikes or lulls in sales. While this may not exactly factor into which touch points a consumer engaged with, measuring and understanding external factors, such as the economy or seasonality trends like the holiday shopping season, can illuminate reasons behind success or under-performance of campaigns. A good way to do this is to examine past campaign performance with media mix modeling. However, marketers cannot rely on media mix modeling alone. Media mix modeling has limitations - especially when it comes to generating real-time campaign insights, as this model looks at historical data over the course of years.
Combining Offline and Online Metrics
Once this data is collected, marketers need a marketing analytics software capable of developing models that highlight the customer journey marketers have created, while measuring the effectiveness of the channels along that journey. Diving deeper, marketers need modeling framework that can forecast data instead of looking at past campaigns to base marketing decisions on, while accurately valuing the various audience segments engaging with the brand.
A good way to do this is with unified marketing measurement. This attribution model allows marketing teams to normalize and correlate the various metrics used to measure online and offline campaigns. Once all of this data is made comparable UMM helps marketing teams determine how much a role each touchpoint played on the path to purchase,
With the right data collection and marketing attribution software in place, marketers can develop models that match offline media exposure with digital engagement and in-store or online sales conversion. This allows marketers to track the impact of offline and online marketing efforts while highlighting the various ways they influence each other as they move consumers down the sales funnel. Marketers can then use these insights to optimize online and offline channels to work better together toward campaign effectiveness.
Final Thoughts
To remain competitive, it is crucial that marketers have the ability to track and measure their online and offline efforts to help deliver the omnichannel marketing experience consumers expect. With this in mind, marketers need access to the right data and analytics software that can effectively showcase which channels across the marketing mix have the most impact, helping them place the right messages in front of the right consumers, on the right channel at the right time.