Marketing Evolution Launches Partner Certification Program
Published
August 23, 2017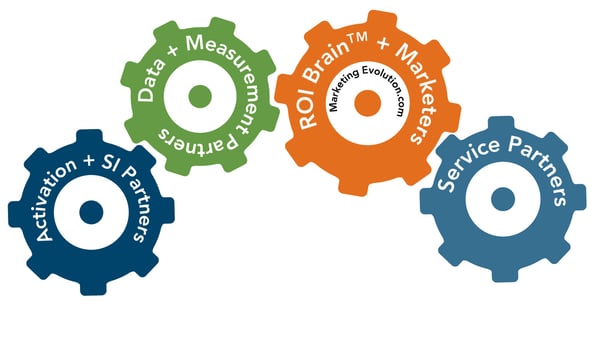 NEW YORK, NY, August 23, 2017 - Marketing Evolution has significantly increased its efforts in making person-level integrations seamless for their customers. Marketing Evolution today announces its partner certification program in expanding its ecosystem of partners to unify the best of breed person level measurement options with leading agencies, Martech and management consulting firms to provide value added services for customers of Marketing Evolution.
Within the last year, the independent firm Forrester named Marketing Evolution a "Leader" in their report, The Forrester Wave : Marketing Measurement And Optimization Solutions, Q4 2016. "Seamless integration with the ecosystem is a differentiating aspect of what Marketing Evolution delivers, and an important part of our roadmap." said Christine Grammier, Head of Partners & Alliances. "We built something very different from the typical digital attribution platform. We built a platform that is ready to plug and play with all marketing messages across all marketing channels at the person-level. We are scaling partnerships and our ecosystem to support our customers' bottom's line."
Marketing Evolution is expanding its partner program in 3 categories:
- Data & Measurement Partners - As Marketing Evolution solves for both MMM & MTA, we welcome new data partners which specialize in identity management, media & content exposure, consumer purchase and location based data sets, and social media partners into our ecosystem.
- Agency & Activation Partners - As Marketing Evolution optimizes cross-channel media campaigns in-flight - we are expanding our partnerships with agencies and marketing consultants with expertise in working with brands on executing in-flight creative and media optimization across all media channels.
- Consulting & System Integrator Partnerships - Management consultants, market research companies and system integrators find Marketing Evolution a fantastic platform for driving ROI for their clients' media spend as well as augmenting their data, targeting, and creative strategies in maximizing bottom line sales results.

"By combining Marketing Evolutions SaaS platform with our Proprietary Auto Brand Tracking services, we are now able to help our automotive brands increase their ROI of their media spend across all channels in real time," said Duncan Lawrence from Morpace, a certified Marketing Evolution partner. "With over 40 years of experience working with all major automotive companies, we are excited to have Morpace bring additional value add data and services to help automotive customers meet their short-term sales goals along with strengthening their brand value for future sales growth," said Grammier.

"Our partnership with Marketing Evolution has allowed us to bring new value to our film and television customers. We are thrilled at the opportunity to integrate and expand our product offerings and have our teams help supercharge the performance of entertainment promotional marketing dollars in the Marketing Evolution platform," said Kevin Goetz, Founder and CEO of Screen Engine/ASI.

Marketing Evolution's partner ecosystem is helping brands with their media which consistently drives 20% to 30% improvements in marketing ROI. Companies interested in joining Marketing Evolution's partner network please visit the Marketing Evolution partner page at www.marketingevolution.com/partners.
About Marketing Evolution
Marketing Evolution delivers marketers better business results with an independent SaaS Platform for measuring and optimization of the entire marketing mix. Marketing Evolution is for marketers that want immediately actionable visibility into what is working and how to improve it across every touchpoint. Marketing Evolution helps marketers increase sales and profits with its person-level ROI optimization platform. Visit www.marketingevolution.com and follow on twitter: @MktgEvolution
About Morpace Inc.
Morpace is a top 50 international, full-service market research firm which has built a reputation as truth seekers who humanize data to connect clients with their customers. With offices in Detroit, Los Angeles, London and Shanghai, Morpace has been recognized as a global leader in its field and is considered a best place to work. For more information on the firm and its services, visit www.morpace.com.
About Screen Engine (ASI)
Screen Engine is headquartered in Century City, CA. It is a full service market research and marketing information agency with an emphasis in the entertainment category that works with clients to better identify and leverage opportunity and assess and manage risk. For more information on Screen Engine visit www.screenenginellc.com.