Marketing Evolution Hires Enterprise Software Marketing Expert to Accelerate Growth
Published
February 13, 2018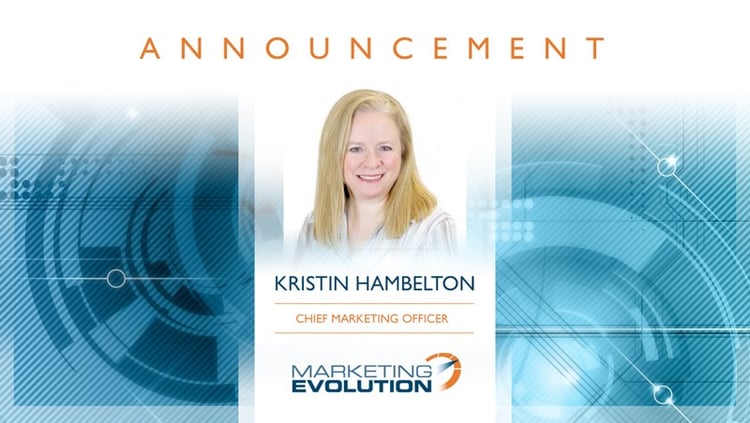 NEW YORK — February 13, 2018 — Marketing Evolution, the leading provider of marketing analytics and attribution, today announced that Kristin Hambelton has joined as its first chief marketing officer (CMO). Highly regarded for her results-driven, business-to-business (B2B) marketing expertise, Hambelton brings a proven track record creating and implementing successful growth strategies for some of the best-known SaaS marketing technology companies, including Adobe, Neolane, and Evariant.
"We are excited to have Kristin join our team," said Rex Briggs, founder and chief executive officer of Marketing Evolution. "We've been experiencing rapid growth in the market. Adding Kristin's experience crafting and executing marketing strategy, recruiting strong teams, and her passion for customer experience will be a tremendous asset as we scale our business and better support the needs of a global marketplace while maintaining the highest levels of customer satisfaction."
As Marketing Evolution's first CMO, Hambelton is tasked with developing the company's marketing function while defining its global marketing strategy; she will also oversee marketing operations including demand generation, content, partner and customer marketing, corporate communications, events, and branding.
"Marketing Evolution's disruptive approach to marketing attribution truly delivers results," said Hambelton. "The company has defined a new standard to measure the impact of marketing and has quickly become an indispensable tool for its customers. I'm excited to help the team bring this innovative solution to a broader audience and support customers in making the actionable decisions they need to accurately measure and improve their marketing ROI."
Global demand for the company's AI-based technology for marketing optimization has been growing rapidly. Last week, the company announced $20.6 million in Series B funding and earlier this year, it announced its international expansion with the opening of a London office to serve customers in Europe, Asia, Africa, and the Middle East. More than half of Marketing Evolution's current customers have a global footprint and represent some of the fastest-growing segments including automotive, entertainment, financial services and retail.
To read more about Marketing Evolution and its unique person-centric, multi-touch attribution and right-time optimization using Big Data and AI within the award-winning ROI Brain® software, visit: www.marketingevolution.com.