Personalization in finance isn't an all-new trend – it's a re-imagining of the business models that brought consumers to banks before the era of mass marketing. Decades ago, consumers would visit banks where they knew tellers on a first name basis, as they were all active members of the same community.
Today's world is much more fragmented. As televisions and an internet connection became more prominent in the modern household, many financial institutions have lost their personal touch. The market became much more transactional – it was no longer about the relationships with bank tellers. Instead, consumers were more concerned with who doesn't charge maintenance fees, and who has the best rewards system for their credit card.
In a race to cut costs, the personalized nature of financial services suffered. This is a huge missed opportunity – a recent study showed that almost 90 percent of retail banking customers claim they "definitely will" use a bank or credit union if they give great financial advice. However, it's difficult to give good financial advice when you don't know a customer's goals or priorities – and only 6 percent of banks claim to have the capability to provide highly personalized outreach.
In this era of drastic change, it's important to understand the best ways to keep consumers satisfied. Let's look at how personalization can help marketers better interact with customers on their own terms.
Omnichannel Personalization Initiatives
Personalization needs to use several sources of consumer information to create a three-dimensional view of a single consumer. As a result, omnichannel measurement is absolutely central to personalization initiatives.
Marketers must link data from multiple campaigns – and multiple parts of their organization – to create a cohesive narrative that spells out which personalized campaigns are successful, and which aren't. This is key for customers that were either referred to the bank, or are part of a remarketing goal. Marketers need to find the trail that these consumers are following, and craft their next touchpoint based on previous touchpoints – whether they're online or offline. For example, consider the following billboard for a credit union: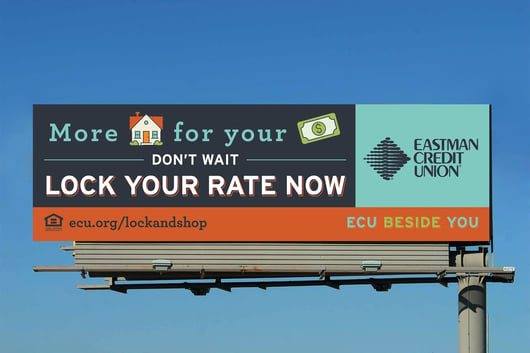 Image Credit: Intellithought
For best results, the creators of this billboard should direct potential customers to a special landing page that's specifically relevant to people who want to purchase homes in the geographic area of this billboard. If a customer lands on their "/lockandshop" landing page as their first touchpoint, then all subsequent targeted messaging should involve homebuying, or local trends in finance.
This requires both online integration and offline optimization technology. To fulfill this need, marketers often employ media planning software alongside their marketing analytics solution. This will help your financial services institution optimize all media placements and messages from a central location, no matter if they're online or offline.
Personalized Blog Content
Content creation is becoming integral to marketing strategies, and the financial services industry is no exception. However, creating content isn't as simple as making a few standardized resources for customers.
Content isn't one-size-fits-all, even if some pieces appeal to wide demographics. Instead, try to optimize your blogs and resources based on small customer segments, and then advertise them to consumers that have the most interest in that content. Here are two primary ways to segment customers when creating targeted content:
Dividing based on use – Is this particular consumer using your credit card? Or are they looking for home financing? Marketers need to identify which customers are using what products, and show them content that aligns with the products they value.
Dividing based on interest – The average American wouldn't be interested in a flight-miles credit card. However, somebody who travels often for work or leisure would be very interested in a credit card that offers flight miles. So, any promotional blog content for this credit card should be pointed towards frequent fliers. Financial services marketers need to leverage customer data to accurately identify the most responsive customer segments.
Targeting blog content this way can also help strengthen customer relationships. If you send email updates when your team posts to the blog, you can ensure that clients only receive content that is relevant to them. These updates will make your updates more personalized and show that your organization cares about your individual consumer's interests.
To create content that resonates with consumers, it's best to link attitudinal survey responses to person-level sales data. This will help your organization find weak areas where more content is needed in order to resonate with a demographic.
Segmenting Based on the Buying Cycle
Timing is everything. Financial serve marketers shouldn't promote products simply based on industry trends or sales quotas. Instead, use a marketing analytics platform to turn data from your CRM into a framework for smarter, more timely promotions.
First, marketers should identify which services customers are most likely to desire at each stage in the purchasing cycle. This information can be uncovered by analyzing person-level data with a marketing analytics platform. Then, these customers should be segmented based on their purchasing cycle. Here are a few suggestions:
Awareness – At this point, consumers are learning more about your product offering. All outreach should focus on explaining how your product satisfies a need.
Consideration – If a customer is interested in your product, they will usually see what your competitors offer before deciding. This is the time to explain what your service does differently, and provide customer testimonials.
Decision – At this point, the customer is ready to make a purchase. They often just need a straightforward path to purchase, or perhaps a special offer to create a sense of urgency.
Assessment of Choice – The buyer's journey doesn't end after they purchase, especially for service-based industries. The best financial institutions will regularly offer informative content to help people make the most of their offerings, and avoid losing them to competitors.
In essence, banks need to understand that a first-time visitor is different from a customer that's researching, which is different from the needs of long-term customers. To encourage action, optimize your CTAs and content based on a consumer's place in the purchasing cycle. For example, a first time customer should have a CTA button that says "How it Works" while a researching customer should see a button that says "Learn More."
Final Thoughts
Consumers believe that financial services organizations provide necessary services that affect their future financial standing as individuals. Financial services marketers need to understand the perspective of the consumer, and offer them personalized, direct methods of marketing communication. By using the right technology, strategies, and insights, marketers in the financial services industry can enjoy increased loyalty from customers, and a strong growth in market share.