Marketing Evolution Raises $4 Million 'Series A' to Accelerate its Leadership in AI Based Marketing Measurement and Optimization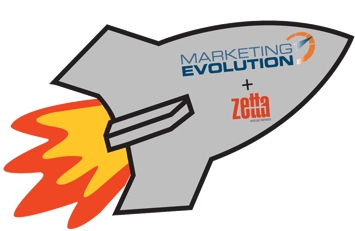 NEW YORK, NY, March 09, 2017 -- Marketing Evolution, trail blazer in Intelligence-based Marketing Measurement and Optimization, announced it has raised $4 million in venture capital from Zetta Venture Partners.
Marketing Evolution is the first and only company to put together attribution and real-time optimization to allow in-flight creative rotation, targeting, and media mix changes down to the person-level for both online and offline media. Marketing Evolution's software looks at a consumer across devices and puts together a complete understanding of what motivates them to buy.
According to founder and CEO Rex Briggs, "Marketing Evolution is leading a new category of marketing analytics powered by massive amounts of data and AI. We predict future sales and match individual messages to individual consumers based on their behavior, media patterns, location, current weather conditions and many other factors. We are replacing the old approaches of mix models, brand tracking and attribution with something much better."
He added, "We are the first vendor to optimize in real-time, while the campaign is running. Marketers are replacing existing measurement products that can only deliver reports after it is too late to change the message rotation and media placements. As a result, on average, deploying Marketing Evolution has given customers an increase of 31% in profits due to advertising."
Marketing Evolution has signed more than 50 enterprise customers to date, including marquee brands such as Amgen, Citibank, COX, Timberland, and Warner Brothers.
Michael Eichorst, SVP of Measurement & Optimization for Citibank notes, "Marketing Evolution's new generation of analysis is delivering twice the ROI that we saw from mix modeling because they have person-level omni-channel attribution. They are something new in the world of marketing ROI and every marketer who is spending a meaningful amount on advertising should check out Marketing Evolution's solution. We are very pleased we put their technology to use."
Mark Gorenberg, Managing Director at Zetta Venture Partners, will join the company's Board of Directors. "Marketing Evolution is using data and algorithms to create a new class of real-time and granular intelligence for marketers," he noted.
Mr. Gorenberg has been the first venture investor in companies like AdForce, Omniture, Domo and InsideSales. He noted, "Marketing Evolution is following the same pattern we saw with previous billion dollar valued, fast growing, enterprise businesses. It is incredible that Marketing Evolution achieved their scale to date while profitable, without taking venture capital, which is a testament to their strong value proposition, real ROI, and ability to execute. We are excited to have the opportunity to partner with them."
Marketing Evolution is now the most broadly validated approach to marketing measurement and optimization. Within the last year, the independent research firm Forrester named Marketing Evolution a "Leader" in its report, The Forrester Wave : Marketing Measurement and Optimization Solutions, Q4 2016. Additional validation includes:
Big Data Gold Medal from The Advertising Research Foundation for its work with Warner Brothers in 2016.

The CEB Marketing Leadership Council's Best Practices case studies based on Citibank's work with Marketing Evolution's ROI BrainTM software.

The Mobile Marketing Association re-affirming its selection of Marketing Evolution as attribution vendor of record for its latest round of public ROI studies highlighting how to best use mobile in the mix.
In addition, Forrester categorized Marketing Evolution among vendors that provide strong capabilities within all three of Forrester's digital intelligence tiers in its 2017 Vendor Landscape report: Digital Intelligence Technology Providers You Should Care About. In sum, Marketing Evolution is broadly recognized as the top marketing analytics company.
About Zetta Venture Partners
Founded in 2013, Zetta Venture Partners is the first fund focused on intelligent enterprise software and has $160 million under management. Visit http://www.zettavp.com for more information.
About Marketing Evolution
Marketing Evolution is an independent SaaS platform for measuring and optimizing the entire marketing mix. Marketing Evolution is for marketers who want faster and more detailed marketing optimization. Marketing Evolution's ROI BrainTM platform uses person-level analysis to deliver detailed message rotation, targeting and media mix optimization for every media, while campaigns are live. With its software and award winning support, Marketing Evolution has a proven track record of increasing bottom line sales and profits for its customers. To receive a live demo, case studies and other information, visit www.marketingevolution.com and follow on Twitter: @MktgEvolution.