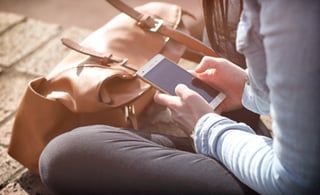 The smartphone is singularly the most profound advance in marketing analysis in the past 15 years. I've had a front row seat to observe how Mobile data has changed analytics. Specifically, Smartphones generate spatiotemporal data. Spatiotemporal means space and time – in other words, the location data from the phone viewed over time to see how people move though their world.
Are you harnessing the power of this data?
Let me share some examples of how spatiotemporal data is helpful for marketers whose sales occur at specific physical locations.
Examples of Spatiotemporal Data in Marketing
Walmart is one of the first companies who began making use of this data. For their 2014 Back to School campaign, Walmart and the Mobile Marketing Association wanted to know if they could entice someone into a store with mobile advertising. This data was used by Walmart to see the influence of different sized advertisements delivered to people that were known to have visited a Walmart in the recent past, but were at home now. Comparing control and exposed groups, we learned it took a larger advertisements to get someone back into the store for an incremental occasion.
Maybe the small mobile advertisements don't work. Not so fast. Using spatiotemporal data combined with geo-fence targeted advertisements to exposed and control groups around the store, Walmart learned that even the smaller advertisement, with a well-designed message, could accomplish that task. The bigger advertisement worked better. Was it worth the upcharge for the larger advertisement? Yes, thanks to spatiotemporal data and well-designed experiments, Walmart learned bigger is better, and more profitable.
Walmart could have gotten to this same answer by looking at their CRM file and analyzing ad exposure versus sales. But, this requires a lot of collaboration between departments and technology partners, which can be organizationally difficult. The mobile data is a great proxy for the sales data and is available nearly instantly without having to ask IT for access to the CRM file.