At Marketing Evolution, we've designed our Marketing Measurement and Optimization Platform to provide all of the tools the modern marketer needs to understand the impact of their marketing campaigns. In today's marketing environment, old models and technologies like Media Mix Modeling (MMM) and Multi-Touch Attribution (MTA) simply aren't able to account for the numerous channels and touchpoints that the average consumer interacts with on a daily basis. That's exactly why our platform provides complete unified marketing measurement (UMM) capabilities.
Marketing should no longer be viewed as a cost center – through advanced data analytics, companies are beginning to understand their marketing team is a profit center. With our Marketing Measurement and Optimization Platform, we will help organizations understand exactly how to best use their marketing resources to create as much profit as possible, while providing a forward-looking view into the future of your marketing campaign.
The platform accomplishes this in five key ways, which deliver five different benefits. While this list of benefits isn't comprehensive – the true utility of our tool is how you leverage is – it will mention the most prominent functionalities of the Marketing Evolution Platform. Let's take a closer look at what they are.
1. Simplicity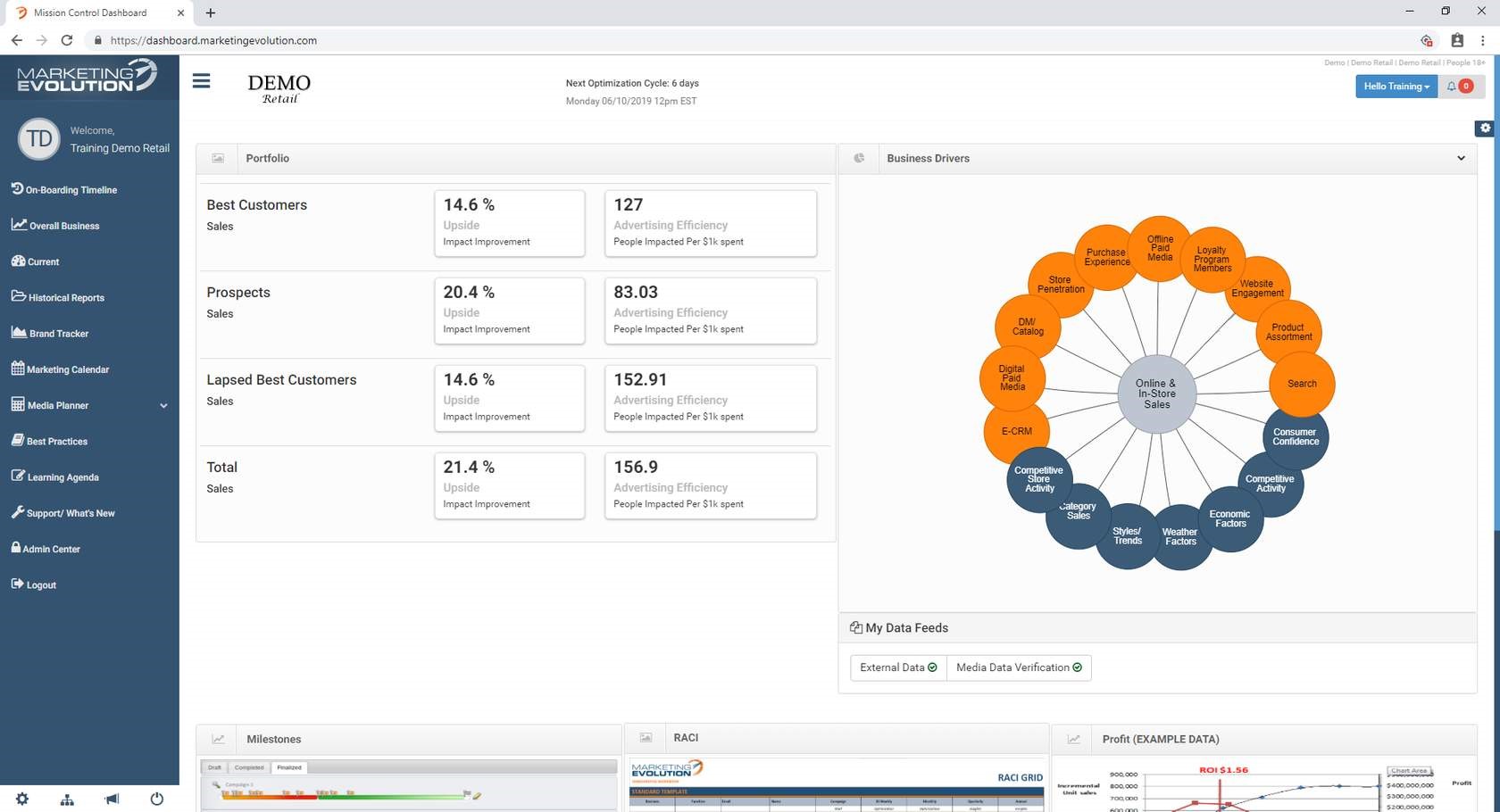 Our dashboard is designed to make your marketing optimization efforts as straightforward and transparent as possible. When you open the Marketing Measurement and Optimization Platform, you'll see an "Overall Business" dashboard which gives a quick reference into the status of your campaigns. This dashboard is fully customizable, allowing you to track the metrics that really matter. If you'd like to see more granular, it's simple to navigate deeper into the platform to better understand how your campaign is being affected.
The dashboard includes the following elements:
Business Drivers & KPIs - You can track what sources are contributing to your current key performance indicators. In the middle is your primary KPI, and around it are the sources that contribute to that KPI. The orange pieces can be controlled internally, while the dark blue circles are less controllable factors. This can be connected with as many or as few factors as you deem necessary, and is appropriate for both small and large datasets.
Milestones - This section breaks out specific events that will influence outcomes in your marketing plan – like a new product release, for example.
RACI - This feature breaks down the people involved in these campaigns, and the subsequent roles that they play.
Profit Charts - These will let you see your current sales and profit at a glance.
2. Speed
When viewing active campaigns, you can immediately see the past, present, and predicted state of your campaigns by using leading metrics. As the amount of interactions and engagements continues to shift, as will your campaign's outlook. Unlike some marketing performance tools, which show historical data, we know how important timely, accurate data is – and that is fundamental to our tool.
This campaign information isn't only available at a glance, however. Further insights are only a few clicks away if a marketer wants to hone in on a certain media placement or marketplace. Marketers can break down this quickly by target audiences and KPIs to give a complete view on how your campaign is currently running in the areas that matter the most.
3. Predictive Capabilities
When you dive deeper into current campaigns, it's possible to predict the future outcomes and then assess how changes in the campaign can make them more successful. We perform these analyses by evaluating "leading indicators," which can predict outcomes and determine attitudinal metrics like brand awareness, purchase intent, and more. Our "upside" estimates will determine how much better your campaign could perform with the right optimization tactics using this predictive data.
These predictive capabilities aren't solely for generalized forecasts, either. Marketing Evolution's optimization solution is the only ROI-measurement system that can measure brand-to-behavior connections at the person-level. It's not always easy to track brands and accurately quantify how much value your brand adds to the business – but with Marketing Evolution, this information becomes much more attainable.
4. Detailed Optimization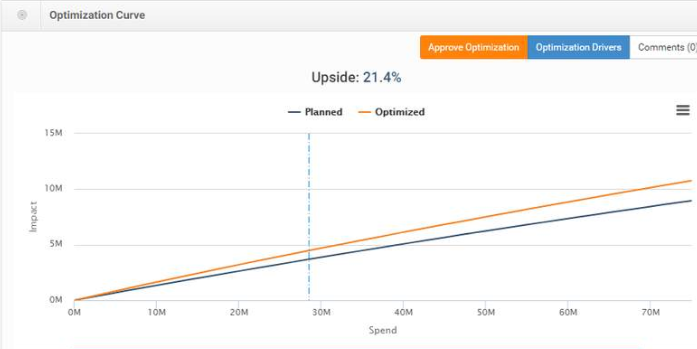 Our platform provides optimization down to the message and insertion-level for every impression. Look at the optimization curve above. The blue line shows how your existing media plan is performing, based on the custom measurement options that were selected. The orange line shows how a campaign could be performing if the campaign were optimized according to the program's recommended media plan.
While this chart seems simple at a glance, it's possible to click into it and see a chart of how this information is broken up. It will evaluate your budget, how much spend has been used to date, and also provides options to download the chart in various formations for additional utility. It is also possible to change planned costs in this table, allowing you to better visualize how certain changes will adjust the campaign's outlook.
Additionally, the platform offers a Geographic Information System, which will allow users to evaluate and determine the influence of ad spending in certain geographic areas. Like many aspects of the Marketing Measurement and Optimization Platform, this map is fully customizable and can be layered with different insights depending on the customer's needs.
5. Granular Message ROI
With our message targeting capabilities, you can take a look at all of your creative messaging – whether it's through video, audio, or text - and determine its impact on your company's bottom line. It's possible to examine and determine the ROI of different media sources, media channels, media markets, and media placements, allowing you to justify even a single message within a campaign using data.
Then, you can see how often all of these marketing messages have been interacted with through a single dashboard. Take a look at the image below – each is an individual message, and the rows can even be expanded for greater detail. Users may also download this information into excel for further analysis, or for sharing datasets with other members of the organization.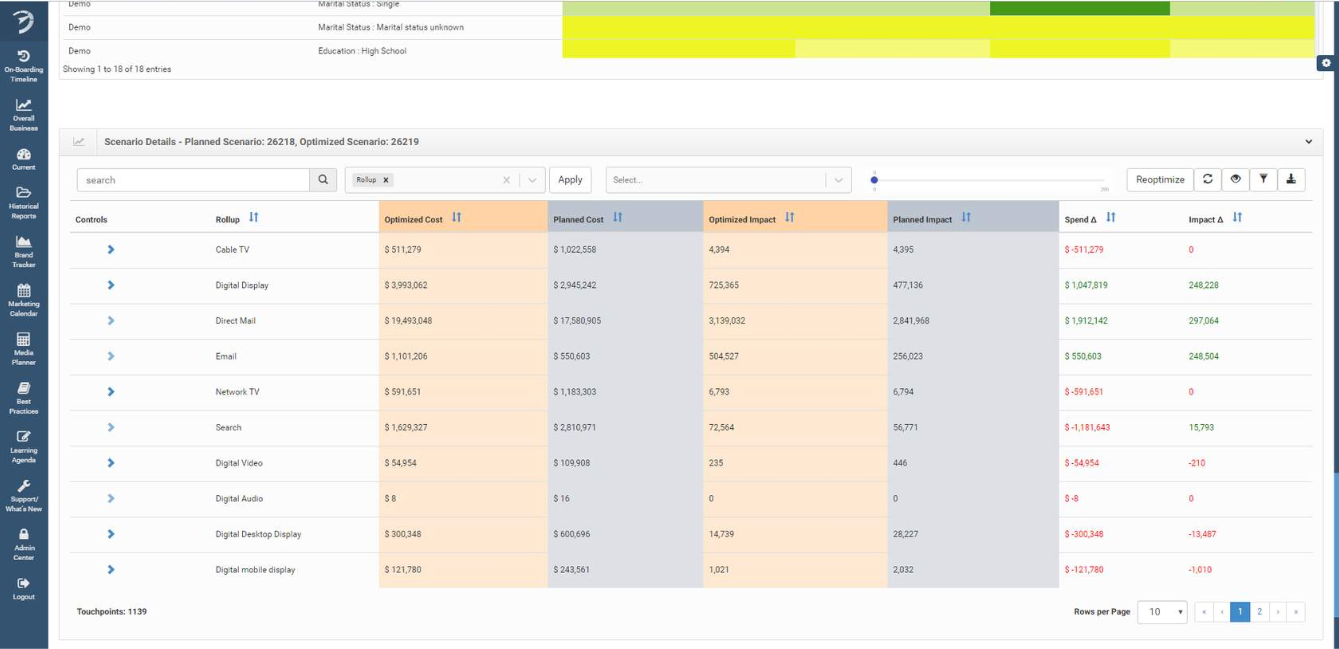 Final Thoughts
Of course, there are more than five benefits to using the Marketing Measurement and Optimization Platform. While this is not a comprehensive list of every benefit and functionality that our platform has to offer, these are the most significant ways that Marketing Evolution can transform your marketing department. Within our changing, diversified marketing environment, many organizations have become skeptical about the true value of marketing. But with our platform, marketers and upper management can enjoy renewed confidence in the campaigns that propel businesses forward.