Marketing Evolution's Partner Offerings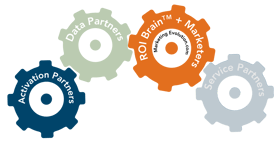 Access Rich Behavioral Data In The Cloud for Competitive Advantage In Your Omnichannel Optimizations
Only with Marketing Evolution + V12 Data

The Benefit
Uncover the most powerful audiences to drive engagement for your brand and products. Directly apply this powerful set of behavioral data segments to target and then optimize your entire media plan, while it is live.
Integration
Person-level data housed and segmented by V12 is directly connected to all media and external drivers of success analyzed by the ROI Brain.™
Relevant Verticals
-Auto (in-market, propensity via Relevate)
-Retail
-B2B
-Healthcare
-Financial Services
-Utilities
Sell More Vehicles by Optimizing the Full Path to Purchase in One Platform
Only with Marketing Evolution + Morpace

The Benefit
Brand health and omnichannel marketing directly impact consideration and car purchase. Flex your short- and long-term KPIs right at your desktop in the Marketing Evolution platform -- optimizing at the person-level to drive changes during your live campaign.
Integration
Morpace's automotive experts (40+ years, 50+ countries) integrate their proprietary data and expertise into the ROI Brain™ for an exclusive, end-to-end brand to behavior optimization solution.
EY Onboarding and Enablement Maximizes the ROI Brain'sTM Impact for Your Enterprise
Marketing Evolution + EY

The Benefit
EY implements Marketing Evolution's ROI Brain™ as part of its best-in-class commercial transformation solution. EY consultants and engineers configure your initial setup for maximum results, then our dedicated client services team will support you 24/7.
Implementation
Your EY team will onboard you onto the ROI Brain during their engagement -- ensuring you receive the most powerful optimization platform, aligned with the right staff and best-in-class workstreams.
Maximize Movie and TV Audiences Through the Lifecycle, from Screening to Home Entertainment Sales
Only with Marketing Evolution + Screen Engine

The Benefit
Identify your highest-propensity audiences for upcoming releases in the competitive context. Integrate this intelligence into person-level media planning to calibrate your targeting based on post-view attitudes and real theater visits or tune in.
Integration
Screen Engine's collaborative syndicated entertainment survey and individual-level screening attitudinal data are directly tied to the ROI Brain™ to drive high-relevance cross-media reach.
Relevant Vertical
Entertainment: theatrical release planning, home entertainment release and TV show premiere.
Real-Time Cross-Media Optimization + Quantified Performance Audit
Only with Marketing Evolution + MMi

The Benefit
An unmatched combination of two "gold standard" platforms: Marketing Evolution optimizes your media at the person level, while your campaign is live. MMi audits your media spend, so you get what you paid for.
Integration
Media Management Inc.'s tenured team (average experience: 20+ years) and technology streamline data capture from post-buy systems. We pair these data feeds with the ROI Brain™ to deliver a unified approach to media optimization and media audit.
New Product Forecasting & Innovation Research Solution Built for Modern Media
Only with Marketing Evolution + Rubinson Partners/MoreCastR

The Benefit
80% of product launches fail. Finding the 15% of consumers who actually drive 80-90% of impact, and reaching them in the optimal way, is harder and more essential than ever in today's fragmented media landscape. MoreCastR, leveraging the ROI Brain™, was created for this purpose by Joel Rubinson, based on his depth of experience with NPD Group, The ARF, Coca-Cola, Unilever and many more.
Integration
MoreCastR is built atop the ROI Brain™ -- so you can optimize your plan, across media, to best reach the "high propensity triers" essential to your new product launch.
"Black Belt" Agencies Use ROI Brain™ To Deliver In-Campaign Optimizations, Drive 30%+ Client ROI

"Black Belt" Agencies Use the ROI BrainTM To Deliver In-Campaign Optimizations, Drive 30%+ Customer ROI
Only with Marketing Evolution + Carmichael Lynch // Empower MediaMarketing // Harmelin // Jellyfish // Vizeum
The Benefit
To optimize your campaigns in real time, you can rely on these agencies, all fully trained and certified in using the ROI Brain. Always-on connections between their analytics teams and Marketing Evolution dashboards make for lightning fast setup, execution and rapid trafficking of optimizations.
Integration
- Dedicated onboarding, learning modules ensure deep agency team understanding and fast ramp-up
- Data configuration process customized to each agency's systems for rapid, seamless setup
- Tight agency connections to Marketing Evolution product team ensure pace with/input into new developments
Activate Cross-Screen Video, Holistically Optimize Spend In Your Media Mix
Only with Marketing Evolution + Adobe Ad Cloud

The Benefit
The video ad delivery landscape is no longer just TV – it extends to desktops, mobile, and an array of streaming devices. Combine your buying and delivery with real-time creative and cross-media audience optimization.
Integration
The ROI Brain™ is fully integrated with Adobe Ad Cloud – enabling easy ingestion of media logs, quick setup of survey-based test and learns, and easy to apply optimizations.
Example Use Cases
- Test a new vendor or tactic
- Activate audiences
- Streamline optimization based on Marketing Evolution results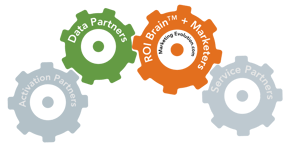 Real-Time, Person-Level Segmentation Unlocks Best-In-Class Consumer Marketing Optimization
Only with Marketing Evolution + ACXIOM

The Benefit
Create a customized, enriched person-level data stack using your customers and prospects. Apply this audience intelligence for granular optimization of media spend and targeting – to impact your live campaigns.
Integration
The ROI Brain™ can integrate with Acxiom – receiving deep, person-level data about customers and prospects for attribution, optimization and on-the-fly segment creation.
Drive Visits to Physical Locations with Breakthrough Real-Time All Media Optimization
Only with Marketing Evolution + PlaceIQ

The Benefit
While clickstream data tells you if you've succeed in driving online traffic, real world impact at physical locations has been far harder to quickly quantify. Until now. Location intelligence is now actionable – so you can refine all your touchpoints for in-person visits while media is in-flight.
Integration
Precision spatiotemporal user data from mobile devices, connected to real-time, all-marketing optimization.
Example Use Cases
- QSR/Casual Dining conversion to visit
- Theatrical Box Office opening weekend attendance
- Retail store visit
"Always On" Marketing ROI + Current Purchase Data Accelerates CPG and Other Retail Success
Only with Marketing Evolution + Kantar

The Benefit
See how each media touch point drives product purchase. Then activate these data to maximize impact on audiences that matter during your live campaign.
Integration
Household-level purchase data from retailers, credit cards and loyalty cards connected to real-time, all media optimization.
Relevant Verticals
- Grocery
- Beverage
- OTC Pharmaceutical
- Retail
Real-Time TV Viewing Data: Unmatched Granularity for Inflight Campaign Optimization
Marketing Evolution + Inscape (VIZIO)

The Benefit
TV ad spend remains significant. Granular viewing data from millions of VIZIO smart TVs lets you find the right programs, dayparts and audiences. Measure conversion to tune in, viewership of movies at home and more – using best-in-class cross-media optimization to drives these results.
Integration
Full (second-by-second) viewing data from millions of opted-in households is integrated into your real-time optimizations – providing in-depth viewer profiles, exposure to conversion measurement, and more.
Relevant Use Cases
-Know which households were exposed to specific ads, with precision
-Link TV ad exposure to KPIs
-Know which movies or TV shows were watched via linear broadcast, VOD, DVR, OTT, DVD, Blu-ray
Target, Real-Time Optimize, Retarget at Scale with Addressable TV
Only with Marketing Evolution + Comcast

The Benefit
Addressable TV is now. Combine the reach of the largest U.S. cable operator with Marketing Evolution's leading inflight optimization tools to evaluate this powerful channel in real time, on more than just CPM, and find the optimal allocation in your media mix.
Integration
Household-level behavioral, demographic, and psychographic data streams directly into the ROI Brain™ for use in inflight / ongoing and future optimizations.
Example Use Cases
- Automotive
- Entertainment
- Pharmaceutical
- CPG
- QSR/ Casual Dining