It's here - Meet the new Marketing Evolution
If you're reading this, you've probably already noticed things look a bit different around here. We've spent the better part of a year taking stock of our brand, and we're thrilled to finally share the result of our efforts. Unveiling the new brand identity for Marketing Evolution marks an exciting new chapter for our company. While we remain firmly rooted in the successes of our past, we're now able to look ahead to the opportunities of our future.
For the past several years we've evolved our product, solutions, and team as the industry navigated the challenging measurement and attribution landscape. Guided by leading marketing science, we utilized artificial intelligence (AI) and machine learning (ML) to bolster traditional measurement methods. We provided our customers with a lasting solution to the challenge of shifting media trends, data privacy laws, and market conditions. And as the need for real-time analysis evolved and traditional measurement methods proved too slow, too costly, and too biased, we built an always-on platform to allow our customers real-time access to the insights they needed.
Today, our SaaS solution, Mevo, features privacy-preserving methodology that fuses together the best of AI and ML to bring marketers closer to meeting their goals. Mevo stands alone as the only measurement, and attribution solution to report on advertising effectiveness along the customer journey, and allow for the creation of smarter media plans in the future.


It's only natural that our brand identity reflects these shifts and provides a strong baseline for our continued evolution (see what we did there?). In the new logo you'll find a nod to our roots, shifting to a darker navy blue that is now infused with a purple gradient to inspire forward movement and evolution (we can't help ourselves). In addition, brighter colors and modern, clean look and feel represent our message in a clear and concise manner, making it easier to learn about our solution.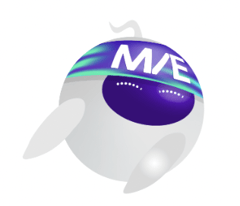 Finally, you'll notice Emie, our friendly robot, across our website. Emie was created to bring the best elements of Mevo to life across our brand visuals, representing both the AI/ML that runs our our platform, and the human know-how required to transform data into decision making. We hope you come to love Emie as much as we do.
Over the next few months you'll see other visuals across Marketing Evolution begin to align with this new identity, including updates to the Mevo platform, a new look on our social channels, and more. We'll keep you updated as new elements are released, especially in the product.
For now, be sure to check out our new website, including our first-ever interactive product tour of our Scenario Planner app.