Marketing Evolution Adds Chief Data Science and Analytics Officer to Leadership
Published
August 14, 2018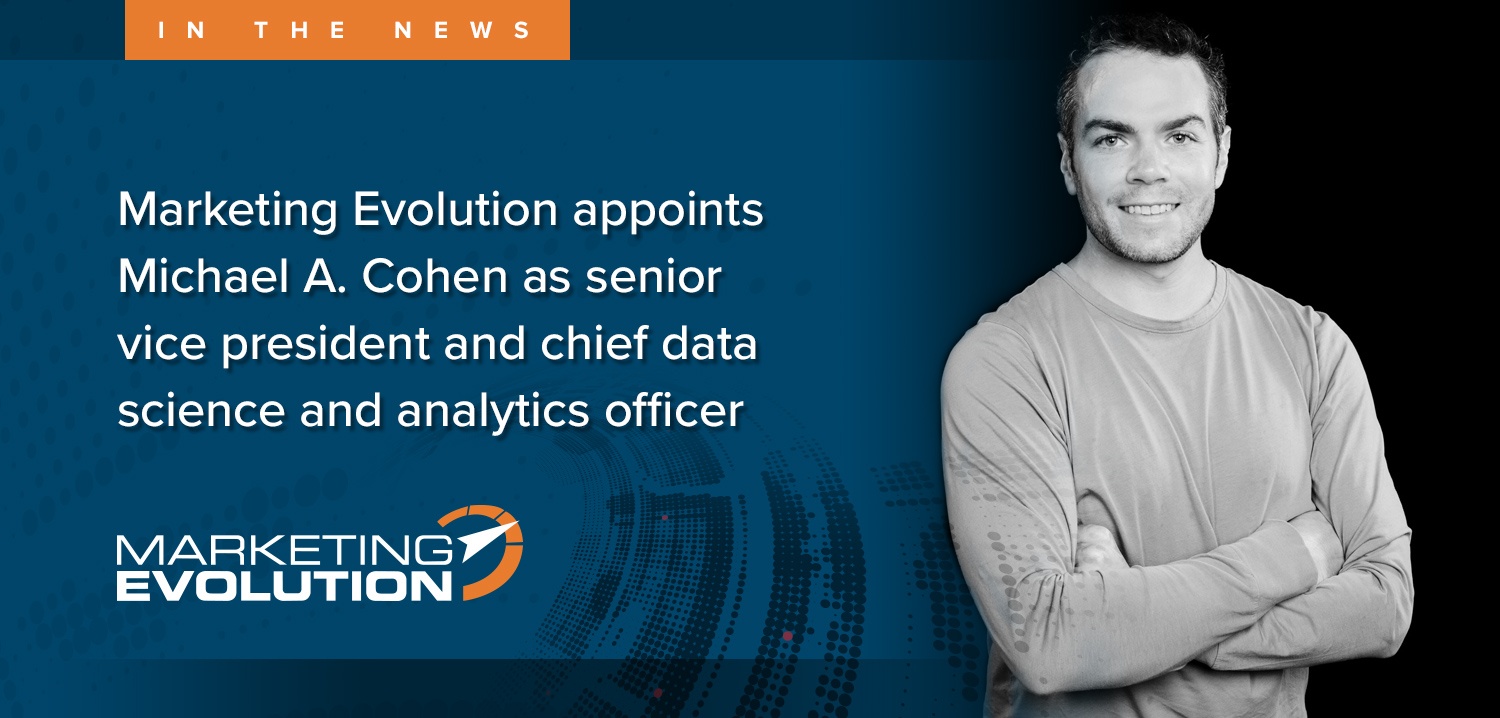 NEW YORK--(BUSINESS WIRE)--Marketing Evolution, the leading provider of the most modern marketing measurement and optimization solutions, announced today the appointment of Michael A. Cohen as senior vice president and chief data science and analytics officer, effective immediately. Cohen, a marketing scientist with extensive corporate and academic experience, brings a history of innovation in developing products that help marketers predict consumer intent, behavior, and choice.
Most recently, Cohen was head of analytics and data science at Oath: Data Products, a division of Verizon comprised of more than 50 digital and mobile brands including HuffPost, Yahoo News, Yahoo Sports, Tumblr, and AOL. At Oath, Cohen oversaw the scientific development of data products including the company's marketing attribution platform, Convertro.
"We've been experiencing rapid growth in the market," said Rex Briggs, founder and CEO of Marketing Evolution. "Michael's deep experience and track record for developing products that drive consumer-led decision making will prove a tremendous asset as we scale our business to better support the needs of a global marketplace."
Marketing Evolution's current customers represent some of the strongest brands in the fastest growing segments including automotive, entertainment, financial services and retail. Global demand for the company's AI-based technology for marketing optimization, based largely on its reputation as a leader in the unified measurement space, has been growing rapidly. The company recently announced the award of a patent for its cutting-edge best practice engine technology (U.S. Patent No. 10,032,121 - System and method for managing and implementing procedures and practices).
"Marketing Evolution's reputation for innovation and ability to deliver results for customers caught my attention," said Michael A. Cohen. "They have quickly become a must-have for corporate executives and marketing professionals looking for a strategic advantage in an increasingly competitive marketplace. I look forward to helping the team bring these cutting-edge science and new technologies to help our customers analyze and optimize their marketing investments."
For the past eight years, Cohen has served on the faculty at the New York University's Stern School of Business, most recently as a visiting scholar and adjunct professor of marketing, where he conducts research and lectures on the use of machine intelligence for data-driven marketing management. He earned his Ph.D. from the University of Connecticut and was a visiting scholar at both the Yale Department of Economics and the Chicago University Booth School of Business.