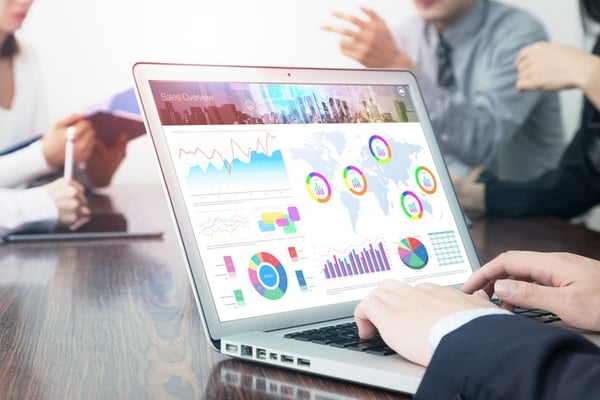 Data—it's the heart and soul of successful marketing campaign optimization. In 2018 however, marketers across industries have an overwhelming variety of marketing analytics software to choose from. These analytics platforms are no longer a luxury, but an absolute necessity for successful marketing efforts. This places marketers in a precarious situation. They understand the importance of quality analytics in today's landscape, however, it can be difficult to understand the analytics software features that fit the needs of the business and provide insights crucial to campaign optimization.
Why Today's Marketers Need Enhanced Analytics
The marketing landscape is diverse, rapidly fluctuating according to a variety of internal and external consumer trends. Subsequently, these trends are prompting marketers to constantly reimagine the insights they use to measure ROI. Take for example, the introduction of app-based ride sharing. Almost immediately, marketers within the auto industry had to go back to the drawing board to determine how they would reestablish value for consumers. With this shift came new insights into where along the media mix to best market that value, and how to highlight that value in order to stay competitive. Marketers need the ability to quickly adapt to changing trends such as these.
It's also worth noting that consumers are now engaging with a wider marketing mix through channels that leverage digital marketing, broadcast media, print advertisements, and so on. As a result of this increasing number of consumer touchpoints, it's becoming progressively difficult for marketers to zero in on the insights that can efficiently pinpoint areas of opportunity for campaign optimization.
For example: as the shift toward ride sharing gained popularity, Ford Motors realized that consumers were no longer interested in certain Ford model cars. Equipped with insights into evolving auto industry consumer trends, they realized that for the best ROI, they should only focus on producing and marketing their most popular models. Now, Ford is solely focusing on producing trucks and SUVs in North America, concentrating their efforts for optimized ROI.
Marketers need solutions that not only show accurate and comprehensive insights into the performance of various channels across the marketing mix, but also insights into the ways consumers are engaging with the media itself. With nearly half of CMOs still reliant on basic, outdated marketing budget planning methods, the pressure is on to allocate the right resources to the right marketing efforts. Simply put, marketers need better marketing attribution software.
3 Features Required of Successful A Marketing Analytics Software
To even be competitive in the market today, choosing the right marketing analytics software cannot be understated. To achieve the goal of targeting the right consumer, on the right channel, with the perfect, individualized message, marketers not only need to collect these various datasets, but also have the ability to integrate, normalize, and evaluate them in a way the optimizes time to value. Without a marketing analytics software that can provide these insights, marketers will always be trailing behind campaign efforts, rather than perfecting them in real time.
While many features and capabilities are similar across platforms, we explore 3 key features that marketers will need in today's constantly evolving marketing landscape.
The Ability to Distill Big Data into Actionable Insights
Today's marketing tactics produce an overabundance of raw data. With larger marketing efforts comes a greater amount of potential insights into the campaign performance. While this can be seen as a positive, it also poses a problem. Big data refers to a massive collection of organized and unorganized information collected from media channels across the marketing mix. In order for marketing analytics to truly drive campaign success and ROI, they need marketing analytics that can manage big data.
By examining the increasing volume of data sets across the entire marketing mix, marketers can discover unique patterns and connections that lead to quality insights. This means unifying disparate data from across the media mix, branding insights, and consumer trends, then distilling those insights into a manageable, quantitative collection that can instantly be made actionable by marketers. Marketers can use these insights to best identify new marketing opportunities and drive campaign success.
For example: by leveraging big data from a variety of unique data sets, marketers can better understand who they're speaking to within a certain geographic area, while gaining clear insight into the channels most effective for communicating with them, and at what time these channels are most engaged with. This helps marketers place the right message in front of the right consumer at the right time.
Big data and marketing analytics are becoming more codependent as marketing needs evolve. As the number of different consumer touch points leveraged by marketers goes up, there are more opportunities for marketers to gain comprehensive insights into engagement, retention, and campaign optimization that are essential for future success. For marketers looking to stay a step ahead of the competition, it's important that the marketing analytics software they use has the ability to condense big data and normalize various metrics quickly enough to be applied to on-going campaigns.
Cross-Channel Capabilities
According to Gartner, a staggering 90% of marketers struggle to seamlessly connect more than three channels into the buyer journey. This is troubling news considering the average consumer requires between 7 and 13 unique touchpoints before converting. With consumer engagement taking place across numerous traditional and digital marketing channels, having the capability to understand not only the performance of different channels from one location, but also how the channels influence each other is critical.
When looking for marketing analytics software that has cross-channel capabilities, it's important to discern whether or not the platform has the ability to rapidly measure the correct cross-channel metrics. Marketing analytics software must be able to unify the various metrics associated with a given channel and incorporate its value in relation to the other channels being tracked. It should also be able to take into account the influence each channel has on the others, screening results accordingly.
Measures Creative Messaging In-Campaign
Look at it this way: If you give someone a present in the nicest box, with amazing wrapping paper, but they hate the gift, what was the point? Marketing success relies on the impact of your messaging. You can use the most effective types of media to market to consumers, but if the creative messaging itself can't make an impact, you're likely losing opportunities. Today's consumers are in more control of their overall media interactions than ever before. For marketers, this means that in order to drive engagement and truly impact ROI, messaging needs to be tailored to individuals' unique needs preferences—they need to be targeted at the person-level.
As marketers seek to place the right message in front of the right people at the right time, they need marketing analytics software that can measure the impact creative messaging has on individuals, the media mix, as well as overall marketing campaigns. Marketers should look for platforms that can effectively compartmentalize creative messaging across a campaign and make real-time, in-campaign recommendations to optimize that messaging.
Final Thoughts
Marketing in today's ever-evolving landscape means that marketing analytics are an absolute essential item in the marketer's toolkit. However, given the overabundance of marketing analytics software on the market, it should come as no surprise that they're not all created equal. In order for marketers to stay a step ahead of today's changing landscape, they should look for the solutions that offer the capability to distill big data, manage cross-channel media, and provide actionable measurement into creative messaging.