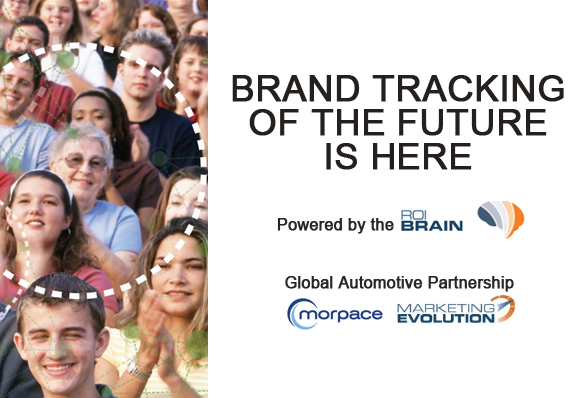 Morpace Inc., a marketing research and consulting firm, today announced a global strategic agreement with Marketing Evolution to bring automotive clients the award-winning ROI Brain™, an ROI optimization solution which works in conjunction with brand equity tracking. This integrated solution will provide clients with unparalleled actionability, optimizing every marketing action for impact.
Documented results are outstanding, with marketers improving their ROI by an average of 31 percent. This means that for every $10 million in media spend, marketers typically achieve three million dollars in incremental impact.
"In today's fast-paced, omni-channel world, marketers need to know what's working and what's not so that they can quickly adjust, actively managing their campaigns and budget for maximum impact," says David Myhrer, Morpace SVP Brand Strategy. "Nowhere is this challenge greater than in automotive."
The ROI Brain™ is uniquely able to deal with the breadth and complexity of automotive marketing. For example, the ROI Brain™ was used to successfully optimize over $1 billion in annual marketing spend across 20+ simultaneous National and Regional ongoing campaigns with a broad variety of media tactics and creative for each campaign.
Morpace's automotive experts track brand health around the world in over 50 countries. The ROI Brain™ uses brand health tracking data to directly link attitudes and exposure to actual behavior (i.e. purchase), all at a personal level. The ROI Brain™ provides the optimal, detailed media plan allowing marketers to make real time adjustments to get the right creative and message to the right person, in the right media, at the right price. The approach works across all media, not just digital.
"Combined with their global footprint, Morpace's deep relationships in automotive and expertise in automotive brand health make them an ideal partner," says Rex Briggs, Founder and CEO, Marketing Evolution.
Marketing Evolution was recognized as a "Leader" by Forrester in the latest Forrester Measurement & Optimization Wave Report, and the ARF awarded Marketing Evolution with the 2016 Big Data Gold Medal, noting the speed & omni-channel detail of its in-campaign optimization.
Together, Morpace and Marketing Evolution offer free customized briefings and live demonstrations of this new approach to active brand management.